-------------------
NEW STUFF 5-2-12
-------------------
Recent Happenings and FCBD 2012! ____________________
Wow 6 months since the last journal...you lucky monkeys

Thank you very much for all of the faves and watches, appreciate it greatly and i hope i don't disappoint ya
Now then a ton has been happening in the last Six months, worked on several Sketch card series, I won another "High Five award" for my sketch card work, which is soooo cool and means a lot to me since its all voted on by retailers and fans. Also I'm Hard at work Writing and producing more Tin-Star Tex comics, First issue of "Wayward Son" will be available at Phoenix Comicon on May 24th -27th and wide retail release in June.
But First! ... FREE COMIC BOOK DAY is this coming Saturday May 5th!
I am lucky enough to be included in the first ever Arizona Comic Mini Expo or ACME
[link]
for acronyms sake

It takes place on Free Comic Book Day but its a little different, its a mini comic con taking place inside Samurai Comics Mesa and sponsored by both Samurai comics
[link]
and Bookmans Entertainment Exchange, we will also have special deals benefiting the HERO Initiative charity group. And since its inside Samurai comics...don't forget the FREE COMICS!
But Firstly on Friday the 4th ACME will hold a special Art show at Gotham City Comics & Coffee
[link]
here's some details on both events...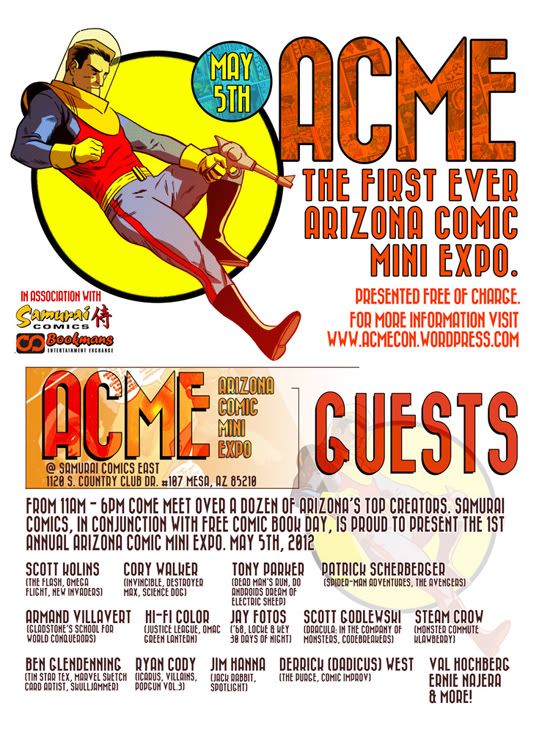 Hope to see some of you out there, and if you're not in the AZ area i hope you're still going out and supporting your local Comic shop on FCBD!
ACME on DA...










- BEN OUT!----------------------------------------------------Commission status : CLOSED----------------------------------------------------
Also FYI I post on my site weekly (sometimes more) with art and news
SKULLJAMMER.COM
www.skulljammer.com

CONVENTIONS & EVENTS____________________
ACME Art show, Gotham City Comics & Coffee May 4th 7pm-11pm
[link]
ACME comic expo/Free Comic Book Day May 5th 11am-6pm
[link]
Phoenix Comicon May 24th-27th
[link]
____________________________________________ The Comic improv crew







Check out the Comic improv here -->
[link]
---------
Local Deviant buddies